Studio Tour Map 2017
 Interactive Map

Here is an interactive map to help you plan your touring, or get directions. Click on any marker to get the name and studio number, as well as the address.  Click on the icon in the top left corner (see right) to expand the list of artists.
If the markers are too close together, you can scroll with your mouse in order to zoom in on a section on the map.
Please note that the following locations recently had address changes by the city.  The locations are the same, but the green address markers will be different.  We aren't sure how GPS systems will react or if they will be up to date.
#8 – Sandy Cogar – 1662 Moon Line N., Bobcaygeon is now known as 62 Moon Line N., Trent Lakes.
#5 – Lucia McHardy – 1367 Oakridge Rd, Bobcaygeon is now known as 340 Oakridge Rd, Trent Lakes.
#6 – Daniel Marlatt – 250 Edwina Drive, Trent Lakes.
#7 – Carol Nichol (and guests) – 1188 Peterborough County Rd 36, Bobcaygeon is now known as 1291 County Rd. 36, Trent Lakes.
We are sorry for any confusion.

City of Kawartha Lakes Map
Click on map for larger version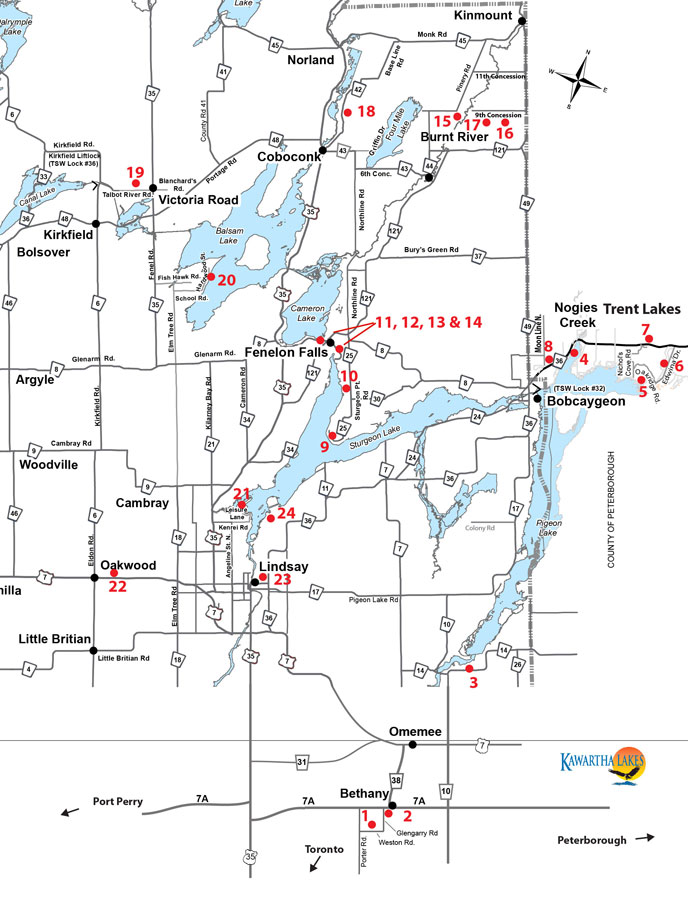 Victoria County Studio Tour members would like to thank and acknowledge The City of Kawartha Lakes Community Partnership and Development Fund Program for assistance with the production of the brochure and this map.